What People Are Saying About DogWatch of Santa Barbara
Elise S.
I can't believe how great the DogWatch System has been for us.  I don't know how I got by without you and DogWatch for so long. Not only was your training great but the system has worked just as you said it would, perfectly!   It has been the best money I've ever spent.  Thanks again!
We want to hear from you! Write us a review on Google+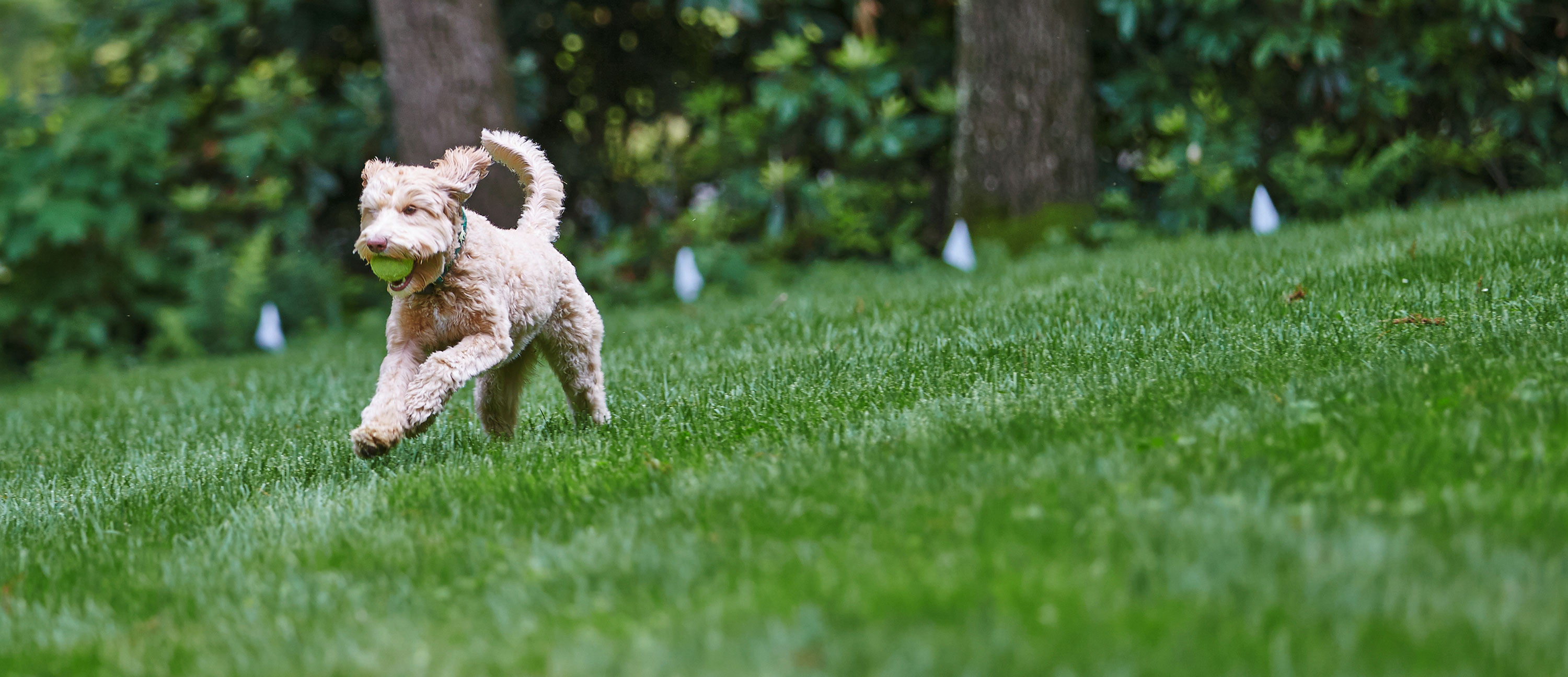 Doug and Leigh S. ( and Sophie )
The Shreves family and Sophie want to thank you for the wonderful job you did installing our DogWatch Hidden Fence.  You did a great job "hiding" the cables and dealing with our difficult landscape.  
As anxious as we were to have the containment system installed, your concern that our Sophie be old enough and mature enough for the containment training was very much appreciated.  Our research supported everything you said and the success we've had is further reinforcement of your commitment and knowledge.  The training you provided for both Sophie and us was very thorough.  She is doing well with very few corrections and is handling those corrections appropriately.  We are comfortable that she has learned her new boundary.   If you are ever in need of a recommendation, please contact us or have any prospective client call us. 
Adam L.
Thanks again for your outstanding work with our DogWatch containment system.  Your installation was flawless and did not have any effect on our lawn or landscaping and the Hidden Fence works perfectly.  With the help of your training, our dogs seemed to pick it up immediately and my lawn and flowers are now beautifully undisturbed, while the dogs are active and playing in "their area of the yard".   I couldn't be happier with the service, installation and training and will certainly be recommending you to all of my friends.
Laurie B.
I wanted to say "thank you" for your service.  It is so nice to work with people that have the level of customer service that you offer. It is refreshing and much appreciated.
Dana D.
Thanks for coming out to our house so quickly.  We love, love, love our DogWatch system.  The fence has worked out perfectly and Lilly has NOT dug up my new back yard.  It is so nice to be able to leave her out there when I am at work and not have to worry about the yard being destroyed when I come home.
Todd A.
I wanted to let you know how much I appreciate your high level of service.   As you know, we recently had a problem with our electrical supply to our DogWatch System due to the recent torrents of rain.  My family and I were heading out of town for a weekend trip, and couldn't leave our dog Robbie at our home without having the system running.  We called you in a panic very early on a Saturday morning and literally 10 minutes later you were at our house and fixed the problem within a few minutes.  We were astounded!  Thanks so much for having such a great can-do attitude.   We always are rest assured that our DogWatch system will continually function.
Gary
I want to tell you how happy we have been with the DogWatch system and especially with the service that you and your team have continued to provide over more than a 10 year period.  It has been so long since I remember trying to manage our dogs without our DogWatch System that I don't know what I would do without it.   Thank you for providing this much needed service to the Santa Barbara community.
Cindy and Roy  
Thanks again, I simply can't say enough about you and your service.  It's the BEST!!
Leota and Dan
We want to thank you for your excellent service.   You are very talented in teaching our dog Russell the new boundaries.  We can relax now knowing he is safe.
Marilyn and Eric    
Thank you so much for your highest level of expertise and service.  We are very pleased with your system.     Please feel warmly welcome to visit anytime you are in our area.
Serina, Guy Laurelle & Kirby   
Thanks for doing such a great job with our containment system and with our dog Kirby!  We always recommend you & your Hidden Fence.  As you know, we considered an invisible fence brand and we couldn't be happier that we went with you & DogWatch Hidden Fence.  You've made all the difference.  Thanks again for everything!                                                  
Jenna
Spencer is doing great on the Hidden Fence.  Thank you so much for all of your help.  He's doing great!
Daisy G.
It is a pleasure to recommend DogWatch Hidden Fences and Mr. Nielsen to anyone who may be considering a system for containing their pet.  Kirk is polite, knowledgeable and informative about electronic containment.    His main concern while here was to make sure I was completely satisfied while treating my dog with the utmost kindness.  I was anxious to install the system and have him trained as soon as possible but Mr. Nielsen explained that doing it before my puppy was ready would be too stressful for my dog and would not be as good as waiting until the dog was a little older. Fortunately, I waited and was very pleased not only with the system but with the thorough, patient training he provided my dog.
Pete and Marion  
We want to take this opportunity to thank you for the excellent job you did installing our Hidden Fence for Aslan, and providing the answer for our landscape protection.  We were both impressed with your ability to design a plan that works for us.  The DogWatch system has allowed us the pleasure of enjoying our backyard, as well as Aslan the freedom of being "king" of his designated area.   We appreciate the restored peace and comfort you have brought to our home.  Aslan responded well to your gentle but firm manner in training him to stay within his bounds.    We will happily recommend your system to anyone who is interested in hearing about our experience.  We will be more than pleased to comment on your high degree of service, your easy-going manner, and your expertise in this area.  We regard you as a man of integrity and as a friend.
Kathy and Bob H.
We would like to thank you for your superb service and professionalism while installing our DogWatch system and training Kiley.  You made the whole process very pleasant for us as well as for Kiley.   The DogWatch System has made an incredible difference in all our lives.  Kiley is so happy to be free to run unattended in the yard.  We are enjoying the peace of mind knowing she is secure.  She never has even gone close to her boundary.  We would recommend your service without any reservations.    We particularly appreciate your integrity and thorough attention to every detail.  In addition, it was very gratifying to see how much Kiley liked you and how well you handled her during her training.
Elise S.
I can't believe how great the DogWatch System has been for us.  I don't know how I got by without you and DogWatch for so long. Not only was your training great but the system has worked just as you said it would, perfectly!   It has been the best money I've ever spent.  Thanks again!
David S.
I am taking the opportunity to thank you once again and to express our appreciation for your excellent product and service.   Your confidence in your product and your long-term commitment to your customers is very, very apparent.  I am pleased to include the Shor family among your list of satisfied customers.
As you are aware, we acquired a different type of product, a DIY product and attempted to install it ourselves and train our dog.  Total – absolute failure!  Then we found you and DogWatch and our failure became your success.  Your professional approach to the installation of the system was greatly appreciated.   Creating a design that was easy for our dog to understand and learn and functional for us was great.   However, besides the great job you did installing the system, training our dog was no easy undertaking!  I am pleased to say that you accomplished the impossible!  Inkey was trained in less than one week and she has stayed on the property for over two years now.  That is a real accomplishment considering the number of  times she was brought home by the Hope Ranch Patrol.     
Most of all I want to express my appreciation for your continued support and service.  As you are aware, we have a horrendous problem with gophers on our property.  Those gophers have damaged the wiring on more than one occasion.  On each occasion the system's alarm effectively notified us of the problem and you responded immediately, found the problem and corrected it promptly.  I am pleased that two years after the installation of our fence, it only takes one telephone call to receive a prompt and effective maintenance response from you.  Most importantly, Inkey is still alive which would not be the case without the DogWatch System.  Thank you again for your continued high-quality customer support.  Do not hesitate to have any prospective customers call us for a reference.
Julie D. – DVM        
I wanted to thank you again for all your help with Charlie, and a big "thank you" to your family for coming way up here on a Saturday and working in the rain installing our containment system for our dog.  We are thrilled with the system-not only did you do a beautiful job installing the system but it is such a relief to be able to allow Charlie to run around and play in the yard.  I will happily refer clients to you and DogWatch Hidden Fences for electronic containment.
David B.    
I can't believe how effectively and quickly you trained our Lab, Remi, to the Hidden Fence.  Thank you for all you've done for us.
Mark H.
Kirk, Maxie is doing great on the system & we want to thank you so much for all you did for us.  I can't believe how well your system and training works, WOW.  It's working great! 
Joanne R.
We are beyond thrilled with the DogWatch system- it has performed miraculously & wonderfully.  We love, love the DogWatch system and all it has done for us and our little dog Cinder.  It has changed our lives and Cinder seems much happier having all the new room in his yard & he is very respectful of his new parameters.                                                               
Betty Jo C.
I wanted to call and say thank you so very much for your product and service over all these years.  Your DogWatch System has made my life easier and much more pleasant.   I would not have been able to have my Cody for all these many years without you and your product-it has performed flawlessly.  Thank you for everything you've done for us.
Jack P.
The system is working great for our cat Sebastian. We love it as much as he does.   It is working wonderfully.  We leave the back door open and he goes in and out as he wishes all day long.
Gail
The dogs are doing fantastically well. Thank you for all you did for us.  Everything has been working out super and they have adapted well.  Thanks again.
Judy
Thank you for coming out so fast to fix our cable that the gardeners accidentally cut.  You are, in my view, a man coming to my aid on his white horse.  You are a true hero.  Thank you so much for your incredible service and products.
Pam P.
Kirk, I just wanted to let you know that I was so amazed that my dogs were chasing a coyote within the property's containment area, and when the coyote ran out being chased by the dogs, they stopped as they should as the coyote ran through the boundary area and out of the property.  Thank you so much for your wonderful training skills.
Francie L.
I just wanted to thank you so much for personally delivering the battery to me the other day, I really appreciate it so much.  Your service is incredible.
Marilyn R.
Thank you for doing such a great job yesterday re-wiring our planter beds.  I was so happy to see that you had been here when I got home and that the animals were secure and protected once again.  I want you to know I appreciate your fast efforts when I know you were very busy and booked up.  Thanks again for helping us to get our new little puppy under control.                  
Barbara J.
Kirk, everything is going great!  The dogs are much happier being outside when they want to be.  I just think you're awesome. You have a great company. We cannot tell you how much we appreciate how quickly you trained our Komondors .  They have never once challenged the boundary.   They are perfect.  We can't believe it!  We are amazed at how easy and fast you made it work.
Will B. 
Kirk, thanks for helping us with our little Sarah- she is our little baby, the sweetest little thing ever.  You and your equipment have completely solved our problems and continue to do so.  I really appreciate your quick availability and help.  Your system simply works!! We love the new little pink collar too.  Thanks again.                                                                         
Mark Haynes and Carrie A.
We live on a busy street corner near State St. in Santa Barbara. It would not have been practical to have a dog without our Dog Watch Hidden Fences System. Kirk, with the help of an assistant, did an incredible job training our (at the time) 6 month old Black Labrador Retriever Maxxy. To date, Maxxy has not crossed the hidden fence line.
Kirk was professional, on time and gave us a fair price to install the Dog Watch System around our home.
We have had the system for 1 year and could not be happier that our dog is safe and without worry that she will cross the hidden fence.  I highly recommend the Dog Watch Hidden Fences for anyone who wants to protect their pets from harm or to keep them out of sensitive areas around the home.   It works amazingly well!
David G.
We have been very satisfied customers of Kirk and his team at Dogwatch of Santa Barbara for 15 years in several houses with many dogs.  His expertise and care in every part of the process are exceptional from planning the wire layout to installation, dog training and speedy after-market service when a problem occurs.  We highly recommend him for everything he does.                                                    
Ruben L.
I want to thank you for all of the incredible service you and DogWatch of Santa Barbara have provided to us. The electric fence is working fantastically. Your installation was top notch – all of the wiring and hardware was done neatly and professionally. And, your post-install training was invaluable. Thank you also for coming back out after our front yard remodel to re-install the electric fence. You went above and beyond, and we really appreciate that. Now, Dudley is one happy dog! We will certainly be recommending DogWatch of Santa Barbara to any/all of our friends who own dogs. Keep up the good work.
Christoper C. – DVM 
Kirk and his team at DogWatch of Santa Barbara are unbeatable at what they do.  As a veterinarian myself I have very high standards with regard to the security and ethical training of my dogs. I was amazed at how quickly he was able to train both of my dogs to respect the borders of the Hidden Fencing and one of my dogs is a dominant, defiant Akita!  Not only are Kirk and his team efficient, professional and exceptionally courteous providers of this service they have also continued to be immediately responsive and patient with us when we may need their help for service or when I have forgotten to order my spare battery on ahead of time, he makes the trip out and delivers one to me without hesitation.
Irene Elias and Toby:) – Santa Barbara, California
Thank You Kirk!!!
I want to take a minute to Thank Kirk of Dog Watch of Santa Barbara for installing and training us with our new Dog Watch System!! We have a Cavalier King Charles Spaniel Named Toby. He 2 years old and is bound and determined to get out under our front gate!!!  Once Kirk installed our new Dog Watch System and trained Toby and Myself, life has become 100% easier!!
It is so easy to do with your pet and the best part is the peace of mind that he is safe and cannot get out. I really would have done this years ago if only I knew how well this all works!!
I recommend this to everyone who has a yard or area that needs to be secured so that your Dog will be safe and sound.
Tell Us Your DogWatch Story!
We'd love to hear from you, too! Please consider filling out our customer feedback survey to tell us about your experience with DogWatch.